To show a use for the Drawing Edge Detect Effect we started by placing our orchid photo into the Drawing buffer. The photo looks like this:
We then set the Edge Threshold to .6, a rather high value, and generated this edge detected result:
You can see, in the image above, that only the strongest edges were detected using .6 as the Threshold.
In the next image, we have used two Effects. We start with the Drawing Effect in Slot 1, and the Drawing Edge Detect in Slot 2 with our .6 Threshold and Output Color 1 set to MULTIPLY. This will Multiply the original image with the edge detected image. Look closely at what we get - and compare it with the original above: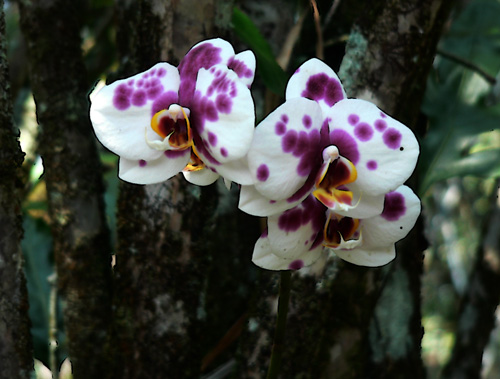 See how the orchid flowers themselves seem punched out, more accentuated, with the rest in more of a background.
In the next image our Threshold is set to the default of .1:
And here is the result of it, multiplied with the original Drawing (Output Color 1 set to Multiply):
We get a more distorted effect because there are far more edges.
Keep in mind that our results were done using Color 1 set to white and Color 2 set to black. You can send any colors in to get totally different effects. Since our edge color was black (Color 2), the effects we achieved were due to black multiplied times anything is black.